Manhunt in Thailand for British boxer
By Alastair Leithead
BBC News, Bangkok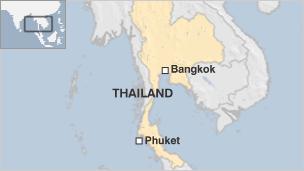 Police in Thailand have launched a manhunt for a British Thai boxing expert who is suspected of murder.
The Thai authorities say they believe Lee Aldhouse, 28, is the main suspect in the killing of a 23-year-old ex-US Marine who was found stabbed to death.
The killing happened after a bar fight on the holiday island of Phuket.
Phuket airport and boat piers are being watched closely by police, and Mr Aldhouse's picture is being widely circulated.
He is the main suspect after Dashawn Longfellow was stabbed to death at his apartment following a bar brawl.
Mr Aldhouse, who told friends he was from Birmingham, had been living in Phuket for some time practicing Muay Thai, or Thai boxing.
Mr Longfellow, a US veteran of wars in both Iraq and Afghanistan, was found dead at his apartment by police. He had been stabbed in the chest.
Earlier in the evening the two men had to be separated after a fight broke out at a local bar.
Police said they believe Mr Aldhouse had followed the American home, after stealing a knife from a convenience store.
Police believe he is still on Phuket.