Australian PM Julia Gillard launches Labor campaign
By Nick Bryant
BBC News, Brisbane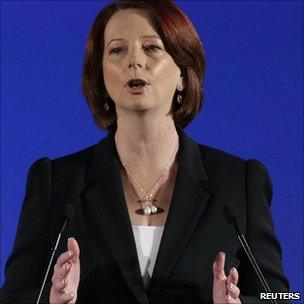 Australian Prime Minister Julia Gillard has officially launched her election campaign in Brisbane, five days ahead of polling day.
Ms Gillard made a Barack Obama-style Yes We Will pledge to help the workforce and "transform" health care.
Opinion polls are suggesting a tight election, and her opponent, Liberal Party leader Tony Abbott, is fighting an unexpectedly strong campaign.
Ms Gillard ousted her predecessor Kevin Rudd in June.
She said she thought the move would help Labor win re-election.
Likened to an Australian soap opera, because of unexpected twists and slightly outlandish plot-lines, this campaign has not gone as Julia Gillard intended. Nowhere near.
She ousted her once hugely popular predecessor Kevin Rudd on the eve of the election because he had slumped in the polls.
But in knifing her one-time ally, she has ended up wounding herself.
With the recriminations of the leadership contest overflowing into the election, she has struggled to focus on her essential message: that Australia was the only advanced economy to avoid recession in the aftermath of the global financial crisis, and that her Labor government should take much of the credit.
She paraphrased the famous "yes we can" campaign slogan of US President Barack Obama.
"I'm too humble to compare myself to... Barack Obama, but I am asking you... when you vote on Saturday, to say 'yes we will'," she said.
"Yes we will move forward with confidence and optimism. Yes we will keep our economy growing stronger day by day," she said.
But the conservative opposition has fought a strong campaign, focusing on the chaos within the Labor party, voter concerns about the size of the national debt, immigration and an increase in the number of asylum seekers setting out for Australia by boat.
Many Australians have been turned off by the entire election, but this is a country with compulsory voter rules.