US officials visit man jailed in North Korea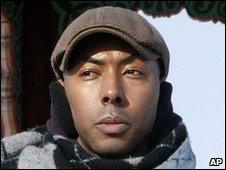 A US consular official and two doctors have visited an American man serving eight years' hard labour in North Korea, Washington said.
Aijalon Mahli Gomes, 30, was sentenced in April after being found guilty of illegally entering the country.
He had been teaching English in South Korea, and reportedly crossed the border from China in January.
The US official and doctors saw Gomes in a hospital in the capital, Pyongyang, last week, the US said.
US State Department spokesman Philip Crowley said on Monday: "We requested permission to visit Mr Gomes. That permission from the North Korean government was granted."
He added: "I believe they visited him in a hospital."
The team of one consular official, two doctors and a translator was in Pyongyang from 9-11 August, Mr Crowley said. They were not able to get Gomes released, it was reported.
Mr Crowley said the US continued to press for Gomes's immediate release because of health worries. He did not elaborate, although North Korea said last month that he had attempted suicide.
It is not clear why Gomes crossed into the North, but it came one month after US missionary Robert Park walked over a frozen border river into North Korea on Christmas Day.