Solomon Islands bribery claims over new government
By Phil Mercer
BBC News, Sydney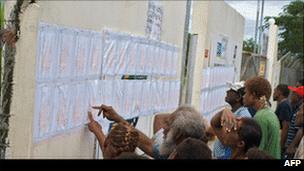 Officials in the Solomon Islands fear that allegations of bribery could destabilise the South Pacific nation as its political leaders continue to jostle for supremacy following a general election.
It is almost two weeks since ballots were cast in the mostly Melanesian country of 600,000 people but a new government has yet to emerge.
Analysts have alleged that bribery is common as opposing groups seek support from parliamentarians to form a coalition administration.
As the negotiations and jostling continue, three rival camps believe they have the numbers to form the next government in the Solomon Islands.
However, community leaders and some political factions have alleged that bribes are being used to build alliances as the race intensifies.
Senior government officials fear that suspicions of corruption could spark the sort of unrest that marred the last election four years ago.
Clive Moore, a professor of Pacific and Australian history at the University of Queensland, believes that inducements worth around $6,000 could help sway allegiances.
"Last time the going rate to lure a politician from one side to the other was between about Solomons$30,000 (US$3,612, £2,310) and S$50,000 ($6,020, £3,851).
"That will be happening once more, so that not only do you need the funds to fight your election campaign then you need the funds to make certain you have the strongest coalition, which means you need to be backed by quite substantial money," he said.
"No, it is not legal but it would be very difficult to prove that money and bribes were taking place, but they certainly are," he added.
The caretaker administration in the Solomon Islands said that allegations of bribery were of real concern and had the potential to destabilise the South Pacific archipelago.
It was on the brink of anarchy when Australian-led peacekeepers arrived in 2003 to bring to an end a vicious and long-standing ethnic conflict.
Rival militias on the main island of Guadalcanal had fought for control of land rights, jobs and political power.
The rebuilding of the nation continues and a new government is expected to be announced by the end of the month.