US baby babble hits Japan taxis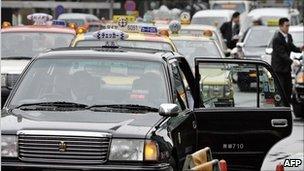 Taxi and lorry drivers in Japan are being affected by unusual disruption from US military bases - baby babble that jams their radios.
Officials in Tokyo said that US-bought baby monitors used by parents on bases were emitting signals that interfered with other nearby transmissions.
Problems had been reported near bases across Japan, Kyodo news agency said.
A US official said the military discouraged the use of US-bought baby monitors by its personnel in Japan.
According to the Japanese internal affairs and communications ministry, the devices emit strong signals on the same frequencies as those used for mobile telephones and radio communications, which is against the law.
The devices had disrupted local taxi and lorry companies' communications near bases in in Okinawa, Tokyo, Kanagawa and other areas, the ministry added.
They could also potentially affect the radio communications of the emergency services, it warned.
"Our ministry is asking the US military for permission to visit the families who are illegally emitting these frequencies and personally ask them to avoid using the baby monitors," a ministry official told AFP news agency.
The US has some 47,000 military personnel stationed on bases in Japan. In many areas the bases are unpopular, with local residents citing noise, disruption and base-related crime.
Related Internet Links
The BBC is not responsible for the content of external sites.