North Korea says seized South Korean vessel 'intruded'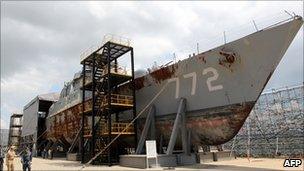 North Korea says that a South Korean fishing boat that it seized earlier this month was poaching in its exclusive economic zone.
The North's news agency, KCNA, said the boat was captured after it "intruded" into its waters on 8 August.
South Korea has demanded the immediate release of the boat and its crew.
Tensions are currently very high between the Koreas because of a row over a South Korean naval vessel that was sunk.
"A South Korean boat which was fishing in our exclusive economic zone in the East Sea (Sea of Japan) was seized by the KPA (North Korean military) navy on 8 August," the despatch from the Korea Central News Agency said.
Investigations into the case would continue, KCNA said.
Four South Koreans and three Chinese are on board the vessel. South Korea has appealed for their release "in accordance with international laws and customs and humanitarian spirit".
North Korea has expressed anger at the ongoing series of military exercises being hosted by the United States and South Korea in seas off the Korean peninsula.
The exercises are, in part, a response to what the US and international investigators believe was a North Korean torpedo attack on a South Korean warship, the Cheonan, on 26 March which killed 46 sailors.
On Wednesday, the US announced that it would hold a joint anti-submarine warfare drill with South Korea in the Yellow Sea early next month.
On Monday, the two nations began an 11-day computer simulation drill.
The first joint drills after the Cheonan's sinking were held in the Sea of Japan late last month.