Blast kills seven in China's Xinjiang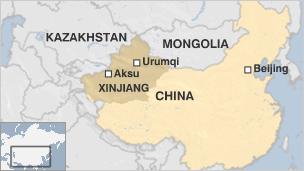 Seven people have been killed and 14 injured in a bomb blast in China's Xinjiang region.
The explosion happened in Aksu city in the west of the remote western region.
A local government spokeswoman, Hou Hanmin, said a Uighur man drove a three-wheeled vehicle carrying an explosive device into a crowd.
The man was arrested at the scene and investigations were ongoing, Ms Hou said.
"It was a three-wheeled vehicle, it has an explosive device on it," she told the BBC Chinese service.
"It exploded while the three-wheeled vehicle ran into the crowd at a street intersection,"
All of the injured were local residents, she said, and four of them had suffered serious injuries.
Last year deadly ethnic riots erupted in Xinjiang after tensions flared between the Muslim Uighur minority and the Han Chinese.
There have also been a number of blasts in Xinjiang in the past, which the government blames on Uighur separatists.
But Uighur activists and human rights groups accuse Beijing of using the issue to crack down on Uighur dissidents, who have complained that waves of Han Chinese migrants have marginalised the Uighur culture.
China has poured troops into Xinjiang, which borders Central Asia, since the unrest in July 2009 in Urumqi which left about 200 people dead.
Full telecommunications, including the internet, have only recently been restored in the region.
Rights group Amnesty International says more than 1,000 people have been detained in the wake of the violence.
Speaking on Thursday before the blast occurred, Xinjiang Governor Nur Bekri told journalists that China faced a "long and fierce and very complicated struggle" in Xinjiang.
"Separatism in Xinjiang has a very long history, it was there in the past, it is still here now and it will continue in the future," AP news agency quoted him as saying.
Related Internet Links
The BBC is not responsible for the content of external sites.