Australia election rivals neck and neck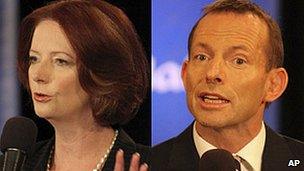 The election campaign in Australia has reached its final day with the two main parties neck and neck.
An opinion poll suggested the governing Labor Party had lost its narrow lead to be tied with the opposition coalition.
Julia Gillard, Australia's first female prime minister, is facing a fight to the finish with conservative coalition leader Tony Abbott.
Ms Gillard became prime minister in June after ousting her predecessor, Kevin Rudd.
But correspondents say she faces a backlash at the ballot box over a range of issues including the way she replaced Mr Rudd and her policy direction on climate change.
According to the survey by Newspoll for The Australian newspaper on Friday, voters were split 50-50 between the two main parties.
A Newspoll survey on Monday had put Labor at 52% and the Liberals at 48%.
However, most analysts still expect Labor to hang on to power for a second three-year term with a narrow majority.
In the run-up to Saturday's poll, Mr Abbott - who leads the Liberal Party - vowed to campaign non-stop for 36 hours to woo more voters away from Labor.
"I am running for the biggest job in the country, and if you're running for a big job, you've got to make a big effort," he said.
Welsh-born Ms Gillard has warned that the election will be "a real cliffhanger" and urged voters to turn out.
"There is a very, very real risk that (voters) will wake up on Sunday and Mr Abbott will be prime minister," she said. "So, tomorrow is the day for choosing."
Ms Gillard has been hit by a series of damaging - apparently internal - leaks during the campaign, something that Tony Abbott has cited as evidence of disarray with the Labor ranks.
Before taking office, she had been Kevin Rudd's deputy and her sudden leadership challenge in June stunned many Australians.
The challenge came as the Labor Party's popularity was sliding in opinion polls.
Mr Rudd surrendered without a fight after realising his support among government colleagues had collapsed.
Related Internet Links
The BBC is not responsible for the content of external sites.