Nuclear talks discussed at China-North Korea meeting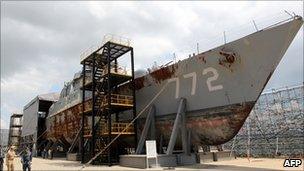 China's foreign ministry has said the resumption of six-party talks about North Korea's nuclear programmes was discussed in Pyongyang this week.
Wu Dawei, China's special envoy on nuclear affairs, has just visited the North Korean capital.
South Korea says the North must apologise for its alleged torpedoing of a South Korean warship before any talks can resume.
North Korea dropped out of the six-party talks last year.
Mr Wu met senior North Korean officials including Foreign Minister Pak Ui-chun and top nuclear envoy Kim Kye-gwan, China's foreign ministry said.
He "exchanged views with North Korea about maintaining peace and stability on the Korean peninsula and restarting the process of the six-party talks", it said.
"They reached a full consensus of views on all the matters discussed," the North's official Korean Central News Agency reported late on Thursday.
China has hosted earlier rounds of the six-party talks - alongside the US, Russia, the two Koreas and Japan - intended to bring to end all of North Korea's nuclear programmes.
It lobbied against a United Nations condemnation of the alleged warship attack, and has argued that incident should be forgotten in favour of re-starting international talks
But a swift resumption of the talks remains uncertain.
The US, South Korea and Japan have said they want an apology from North Korea for what they say was the North's act of aggression against the south Korean warship, the Cheonan, on 26 March, which left 46 South Korean sailors dead.
"First of all, the North should take some sincere measures concerning the Cheonan incident," South Korea's foreign ministry deputy spokesman Shin Maeong-Ho told AFP on Friday.
"Under the current circumstances, it's too early to talk about the resumption of the six-party talks," he said.
South Korean Foreign Minister Yu Myung-hwan said earlier this week that many were "sceptical about the North's sincerity in the six-party talks".
North Korea has conducted two nuclear tests, one in October 2006 and a second in May 2009.