Growing problem of abandoned babies in Malaysia
By Jennifer Pak
BBC News, Kuala Lumpur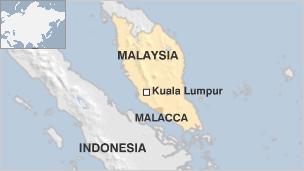 Malaysian authorities are grappling with a growing problem of abandoned babies.
Sixty-five infants have been found so far this year, and many were dead by the time they were discovered.
The government fears that number will surpass previous totals - an average of 100 babies are found each year.
They were left in rubbish bins, on doorsteps and on the streets, prompting the government to consider treating cases as murder or attempted murder.
The latest abandoned baby, a newborn infant, was found dumped by a riverside, covered in a towel and a piece of cloth and stuffed into a bag.
The issue has touched a raw nerve in the Muslim-majority country.
The head of the youth wing of the opposition Pan-Malaysian Islamic Party (PAS), Nasrudin bin Hasan, says drugs, pornography and a lack of moral education have led parents to abandon their children.
The gruesome finds have encouraged some observers to point the finger at familiar targets: internet pornography, bad parenting, and an over-exposure to sexually liberal western culture.
But the phenomenon has also revived a debate over sex education in schools in a country where young people are taught abstinence, and where having a child out of wedlock is seen as deeply shameful.
Social workers say this attitude simply drives many desperate women to abandon their babies.
But there have been other approaches. One charity recently opened the country's first "baby hatch" - a place where mothers can safely and anonymously leave their unwanted child.
The southern state of Malacca believes the way to curb the problem is to allow Muslim girls under the age of 16 to marry; it has also proposed opening a school for pregnant teenagers.
But human rights groups have denounced this as a "knee-jerk reaction".
It is proving difficult to find a solution that everyone agrees on. But PAS hopes to achieve results by involving different groups in the discussion.