Hi-tech help on offer for Filipino rice farmers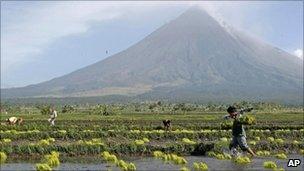 Farmers in the Philippines will soon be able to receive free text messages with advice on how to grow their rice.
The scheme will provide instant advice on topics such as what type of fertiliser to use - and how much.
Scientists will make the often-complicated calculations necessary for maximising harvests available to those who actually produce the rice.
The scheme was set up by the Philippine Department of Agriculture and the International Rice Research Institute.
Rice is the staple crop in the Philippines, as in most of Asia. But one of the key government objectives is to produce even more of it.
The Philippines used to export rice, but now it is the world's biggest importer - and the authorities are keen for farmers to do all they can to maximise their output.
Weng Castillo, the assistant scientist behind the scheme, said: "We've been doing research for a long time, and we found that field-specific advice could increase yields. Even rice plants that are adjacent to each other have different requirements for fertiliser.
"So the technology is available, but the adoption is very slow. It's knowledge-intensive, and too complex for farmers to understand. We wanted to transform this knowledge in to something simple.
"Every farming household has a cellphone, so it should be easy to reach most farmers," she added.
Farmers phone a central number, and answer a series of simple voice-activated questions about the conditions of their field.
Within a few minutes, they get a reply.
For example, in the current wet season, it might say that for 42 to 46 sacks of rice on a field of half a hectare, a farmer needs to apply 38 hectares of fertiliser 14 days after transplanting.
The service is available in four languages, and it is designed to be simple to use. And Filipinos should swiftly adapt - surveys frequently show that people in the Philippines text each other more frequently than any other nationality.
Mel Arcillas is one of the first farmers to be involved in the scheme.
He told the BBC: "It will help me to easily access information on rice farming, like fertiliser practices - when to apply it and how much to use."