Indonesia presidential term limits challenged
By Karishma Vaswani
BBC News, Jakarta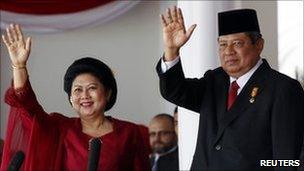 Debate has begun in Indonesia over whether the presidential term should be extended.
A politician from the governing party has proposed to amend the constitution to allow President Susilo Bambang Yudhoyono to run for a third term.
Many young Indonesians have reacted angrily to the idea - raising concerns about what shape the fledgling democracy will take in the future.
Indonesia was ruled by former strongman Suharto for 32 years until 1998.
Ruhut Sitompul, of the governing Democratic Party, said he did not see a suitable candidate to replace the Indonesian president when he has to step down from office in 2014.
The reaction to Mr Sitompul's suggestion is telling in that it shows just how much Indonesians value their democracy.
Commenting on social networking sites like Facebook and Twitter, many have warned of the danger of amending the constitution.
Some said it could herald a return to the old ways of governing Indonesia, seen during the former president and dictator Suharto's era.
He ruled Indonesia for more than three decades and was often accused by his critics of rigging elections in his favour.
Mr Yudhoyono has distanced himself from Mr Sitompul's comments, saying he would reject any moves to amend the constitution.
This is the Indonesian president's second term in office.
His critics say he has not done enough to nurture the next generation of politicians in the country, focussing instead on increasing his profile and status.