Chinese rock legend sings on
By Michael Bristow
BBC News, Beijing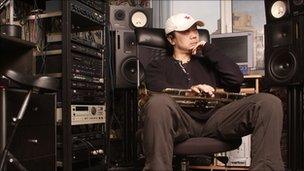 In true star fashion, the man who describes himself as the founder of Chinese rock and roll was late for our interview. His manager blamed Beijing's notoriously bad traffic.
We met at a theatre in the compound of Peking University, where Cui Jian was preparing for a private concert the following day.
As his band tested instruments in a nearby hall, the singer's manager explained that a company had hired him to perform for its guests.
A quarter of a century after first wooing Chinese audiences, the singer is still on the stage, still trying to be relevant in a very different age.
In a small changing room, Cui Jian, dressed in shorts and a tatty T-shirt and sporting a goatee beard, reviewed his long career.
He first burst onto the scene in 1986 at a concert in Beijing when he performed what has become his most famous number: Nothing to my Name.
It is a love song where the central character appeals to his girlfriend to accept him - even though he has no possessions.
She initially laughs at him but, in the end, love triumphs and they go off together.
The song mixes traditional Chinese sounds with Western rock and roll. It was an instant hit and turned Cui Jian into a legend whose reputation persists to this day.
"This song really changed my life," he said, speaking excellent English that has just a hint of an American accent.
"After the record came out, I could buy a new apartment, drive my own car - there was a big change."
The song was released at an important time for modern China. The country was just opening up to the outside world and new ideas were beginning to filter into the once-closed society.
But the ageing revolutionaries who were still in power at the time saw some ideas as a threat. Like others before them, they viewed rock music with suspicion.
It was sometimes hard to get hold of Western music - but Cui Jian had contacts.
"I had a lot of friends who worked in foreign embassies so I had the chance to exchange music tapes. That's the way I listened to a lot of rock music at that time," he said.
In this environment, it is not hard to see how certain fans saw a political meaning in the rocker's songs.
That feeling could only have been reinforced when students protesting in Tiananmen Square in 1989 adopted Nothing to my Name as an anthem.
Cui Jian even performed live in the square in front of the students - although not everyone approved.
"I was really clear about standing on the students' side," said the singer.
"But not everyone liked what I did. Someone said, 'Get out of the square. Don't hurt the students' health - they are very weak'."
Some protesting students were on hunger strike at the time but, despite their lack of energy, Cui Jian "made them pretty crazy".
The 49-year-old singer now says Nothing to my Name has no political meaning: it is about love, pure and simple.
But he seemed reluctant to talk about that period; a biography on his official website makes no mention of his Tiananmen gig in 1989.
Perhaps Cui Jian is just bored of talking about a song he wrote nearly 25 years ago.
"I don't really want to talk about the old stuff - I really don't think it's important any more. I have a lot of new songs, which are more important to me," he said.
He certainly does not seem like a man ready to admit that his best years are behind him.
Cui Jian grew up with music; his mother was a dancer, his father a professional trumpet player. He trained in Western classical music.
His eyes lit up when a song from the band warming up next door briefly drifted into the interview room.
"They're playing my music," he said, showing the enthusiasm of a man who could still be getting used to the novelty of fame.
Then the singer's manager put her head around the changing room door and politely urged us to hurry up. Cui Jian had a rehearsal to get to.
After one more question the rocker declared the interview over. He jumped up and scampered off to practise the next day's show, a baseball cap pulled firmly down on his head.
Even though fewer people are now listening, Cui Jian still rocks.