Formula 1's Lewis Hamilton fined for driving stunts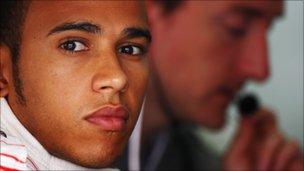 British Formula 1 driver Lewis Hamilton has been fined A$500 (£288) for performing car stunts for fans outside Melbourne's motor racing circuit.
Hamilton was caught by police executing "burnout" and "fishtail" tricks in a borrowed Mercedes two days before the Australian Grand Prix in March.
The 2008 Formula 1 world champion was not in court to hear his punishment.
But his lawyer said Hamilton, 25, was pleading guilty to the charge of improper use of a motor vehicle.
Lawyer Sandip Mukerjea said Hamilton had publicly apologised over the incident, and suffered "embarrassment, humiliation and distress" following the subsequent media coverage.
Mr Mukerjea added that Hamilton had written two letters to the court to explain why he could not be present. He is due to drive in this weekend's Belgian Grand Prix.
Magistrate Clive Alsop said Hamilton was a role model for young people, and had a responsibility to set a good example.
"This is about somebody in a responsible position behaving like a hoon [boy racer]," said Mr Alsop.
He added that he would not record a conviction as it was the first offence of its kind by Hamilton.
The incident in Melbourne took place on Friday, 26 March, following practice for this year's Australian Grand Prix.
Hamilton was driving away from the motor racing circuit in a borrowed Mercedes-Benz car, when he was arrested after a police officer saw him deliberately spinning his wheels.
The car was subsequently impounded, and Hamilton was charged.
Hamilton said following the incident that he had been "over-exuberant".
"What I did was silly, and I want to apologise for it," he added.
Hamilton subsequently finished sixth in the Australian Grand Prix.
He is currently second in the Formula 1 drivers' championship, four points behind leader Mark Webber.