Talks held over police mission in southern Kyrgyzstan
By Rayhan Demytrie
Central Asia correspondent, BBC News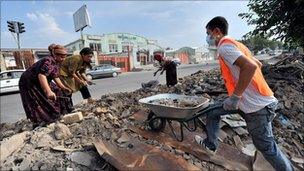 The head of an international police force due to be deployed in southern Kyrgyzstan is in Bishkek for talks to ensure the mission goes ahead.
It is still not clear when the small contingent of police officers from the OSCE, the rights and democracy watchdog, will carry out their mission.
There is growing Kyrgyz opposition to the mission, but international NGOs are warning of the threat of more violence.
The head of the OSCE police mission is Swiss diplomat Markus Mueller.
He has been meeting Kyrgyzstan's president, Roza Otunbayeva, to discuss sending a team of international police to the south of the country.
Fifty-two officers were due to arrive at the end of August but their deployment has been postponed.
The OSCE says its "police advisory group" will have an observer role. Its main task will be to improve relations between security forces and the civilian population.
But there is growing opposition towards an international security presence in the country.
Some senior Kyrgyz politicians oppose the proposed deployment, arguing it might lead to the break-up of the country.
A number of protests have been held in recent weeks, with some demonstrators burning effigies of OSCE officers.
Inter-ethnic fighting in June in the southern cities of Osh and Jalalabad caused the deaths of at least 400 people and destroyed thousands of homes - mostly owned by ethnic Uzbeks.
Many of them welcome the possible deployment of foreign police officers.
Human rights groups allege that since the violence in June local security services have been targeting the Uzbek population with arbitrary arrests and torture.
In its latest report a prominent international NGO, the International Crisis Group, claimed the Kyrgyz government had been slow to address the causes and consequences of the June clashes and warned that a lack of action could lead to further violence.