Thailand delays Viktor Bout extradition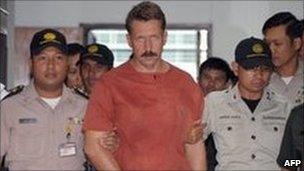 The planned extradition to the United States of a suspected arms dealer, Viktor Bout, has been hit by delays.
A US plane was ready at the Don Muang air force base north of the Thai capital, Bangkok.
But legal delays emerged to postpone the extradition of Mr Bout, a Russian citizen.
The US and Russia have been squabbling over the fate of Mr Bout since his 2008 arrest in a joint Thai-US sting operation.
A court ruled last week that he could be handed over to the US - but Russia then voiced strong opposition.
Prime Minister Abhisit Vejjajiva told reporters that the extradition was delayed: "There are several steps in the legal process," he said.
The delay is believed to be connected to extra charges, of money laundering and fraud, lodged by the US against Mr Bout in February.
An appeal against these charges is currently scheduled to be heard in October.
Deputy Prime Minister Suthep Thaugsuban told reporters these charges would have to be dropped before any extradition could take place.
"There are new charges that the United States filed and they are still in court, so the prosecutor has to seek court approval to drop them and we don't know what the court's decision will be," he said.
In a reference to the super-power competition over Mr Bout's fate, Mr Thaugsuban said Thailand would not be pressured.
"The government will not put our country at risk to play a game of international politics. There is no benefit for our country to gamble with the fate of only one man," he said.
"We are acting in accordance with the law and no one can tell us to speed up the extradition, no matter if five or 10 aircraft are parked there. Thailand is not a country under anyone's mandate. We have our sovereignty," he said.
Police said they had prepared an escort of 50 commandos to take Mr Bout from his prison cell to the plane.
Mr Bout, 43, is pleading not guilty on US charges of conspiracy to sell arms to Colombian rebels.
Dubbed the Merchant of Death, the former Soviet air force officer was detained in a sting operation involving both US and Thai personnel.