Japan's Ichiro Ozawa to challenge PM Kan for leadership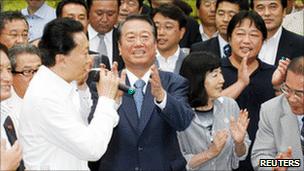 One of the grandees of the governing Democratic Party of Japan, Ichiro Ozawa, has announced he will stand again for the party leadership.
He lost the party post last year amid a party funding scandal.
Mr Ozawa will face the Prime Minister Naoto Kan in the election for party president next month, and will replace him as prime minister if he wins.
Mr Ozawa blames the party's recent defeat in elections to the upper house on Mr Kan's plan to raise sales tax.
It was only in June that parliament elected Mr Kan prime minister after the resignation of Yukio Hatoyama.
"I have decided to run in the leadership election of the Democratic Party of Japan," Mr Ozawa said after a meeting with Mr Hatoyama.
The two men are allies; Mr Ozawa helped Mr Hatoyama to the premiership last year, and said Mr Hatoyama now supports his bid.
Mr Ozawa, 68, is sometimes called the "Shadow Shogun" or "godfather", and has a string of money scandals behind him.
His bid for power is likely to destabilise the government, analysts said.
Once a member of the ruling Liberal Democratic Party, he moved to the then opposition where he served as party leader from 2006 to 2009.
Mr Ozawa's announcement came a day after he made news by calling Americans "simple-minded".
"I like Americans, but they are somewhat monocellular," he said. "When I talk with Americans, I often wonder why they are so simple-minded."
It was unclear what had prompted the remarks.
"I don't think Americans are very smart, but I give extremely high credit for democracy and choices by its people," he added.