Indonesia Playboy editor faces jail over ruling
By Karishma Vaswani
BBC News, Jakarta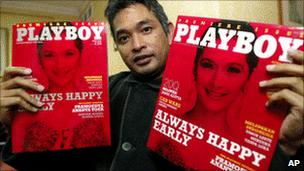 The former editor of Indonesian Playboy could face two years in jail after Indonesian prosecutors said they would enforce a 2009 Supreme Court ruling.
Mr Erwin Arnada was first tried for public indecency in 2007 but was cleared of all charges.
The acquittal was seen as a victory for freedom of the press in Indonesia, the world's most populous Muslim nation.
But conservative Islamic groups lodged an appeal with the Supreme Court, which found him guilty of public indecency.
The decision to clear Mr Erwin Arnada, the former editor of Playboy in Indonesia, of public indecency charges in 2007 was a controversial one.
Many here saw it as proof that press freedom is alive and well - but conservative Muslim groups did not see it that way.
This week, leaders of the Islamic Defenders Front, a hardline Muslim group in Indonesia, announced they had obtained a copy of the Supreme Court's ruling and urged the district attorney's office to enforce it.
Mr Munarman, a lawyer with the group, told the BBC it was outrageous it had taken Indonesian prosecutors this long to act on a Supreme Court order.
He added that members of the Islamic Defenders Front would visit the district attorney general's office on Friday to find out why there had been such a prolonged delay in putting Mr Arnada behind bars.
Meanwhile, Indonesian prosecutors told the BBC they only received the Supreme Court ruling earlier this week.
The prosecutor's office issued a summons for Mr Arnada on Wednesday. If he does not appear then two more summons will be issued for him.
If he fails to comply with those summons, prosecutors say he will be arrested by force.