Manila bus siege police ignored elite army unit's offer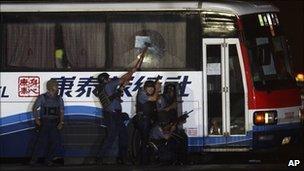 Police handling the armed siege of a tour bus in Manila on Monday made no use of an offer of help from a military squad trained in hostage negotiations.
The Philippine capital's police chief told a Senate inquiry he believed his officers could handle the situation.
Eight tourists from Hong Kong were killed on board the bus after it was hijacked by a former policeman.
President Benigno Aquino has promised that "someone will pay" for the "many failures" in the operation.
The police action has been officially criticised in Hong Kong, where a three minute silence was held on Thursday for the victims.
Philippine Army spokesman Brig Gen Jose Mabanta told the Senate enquiry that a specialist squad had been available and ready to help police, after the bus with 15 tourists on board was hijacked by an armed former police officer demanding his job back.
The team was "highly-trained, highly-equipped" and had experience in hostage situations involving Abu Sayyaf Islamist militants in the southern Philippines, he said.
The offer of help was accepted by the police but the soldiers were never used, he added.
But Brig Gen Mabanta could not say for certain that the outcome would have been different had the police handed over control to the army.
Manila Police's Chief Superintendent, Rodolfo Magtibay, meanwhile told the enquiry he had "honestly believed" that his force's Special Weapons and Tactics (Swat) team was sufficiently able to deal with the situation.
In his strongest statement yet on the siege, President Aquino said on Thursday: "Someone failed. Someone will pay."
He said there had been "many failures" in the operation but that it would be "unfair to pre-judge" the officers involved, according to the Associated Press.
Monday's siege ended when police marksmen shot and killed the hostage-taker, former Senior Inspector Rolando Mendoza.
Survivors and experts have criticised the police for being indecisive and slow in their handling of the crisis.
In the last hour of the siege, which was being broadcast live on television, police failed in an attempt to board the bus.
In Hong Kong, a sombre mourning service was held on Thursday as the bodies of the eight victims returned home.
Both city officials and the authorities in China have demanded a full enquiry into what went wrong.
Democratic Party legislator Emily Lau expressed disgust at the actions and said the people of Hong Kong people had lost confidence in the authorities in the Philippines to handle the crisis and its aftermath.
She said that if a better trained military team had been available then they should have used it, but that the decision was too late now.