Bomb at Bangkok King Power store injures one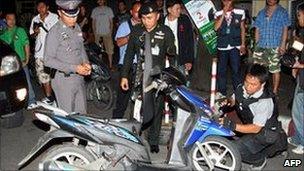 A bomb has exploded in the centre of the Thai capital, Bangkok, seriously wounding a security guard.
The blast, at a duty-free store, was just metres from the site of a recent grenade attack.
It is the third such incident within the past month, despite heightened security.
Bangkok has been under emergency rule since anti-government protests were broken up by troops three months ago.
The target of the attack was the King Power duty-free store. The company holds the lucrative monopoly on duty-free sales in Thailand, and hit the headlines recently over its bid to buy Leicester City football club in the UK.
The company is also politically very well connected, says the BBC's South East Asia correspondent, Rachel Harvey.
The owner of King Power is closely associated with the leader of one of the key parties holding the current coalition government together.
Our correspondent says one possible explanation for the recent attacks is that King Power has become a symbolic target for anti-government activists.
A grenade exploded and seriously injured one man on 30 July in Bangkok, five days after a fatal blast at a bus stop in central Bangkok.
So far, no group has said it carried out any of the attacks.
Bangkok has been under a state of emergency since violent anti-government protests in April and May, in which around 90 people died and 1,800 were injured.