Japan sumo body seeks to sever links with criminals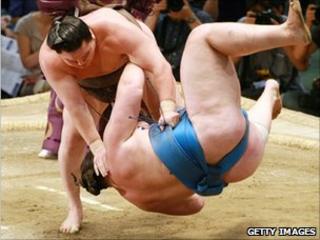 A new effort is under way in Japan to end links between organised crime and the ancient sport of sumo wrestling.
The Japan Sumo Association (JSA) has said known members of criminal gangs will be excluded from all sumo events.
Surveillance cameras will be installed at Tokyo's largest sumo venue to improve security, the JSA says.
The sport's reputation has been badly hit by a series of scandals this year, including an illegal gambling scheme with links to the criminal underworld.
Last month the JSA dismissed a top wrestler and coach over the gambling scandal and Japanese public broadcaster NHK said it would not show the next sumo tournament live.
The JSA chairman also agreed to step aside temporarily in favour of a sumo outsider.