South Korean FM offers to resign over nepotism charge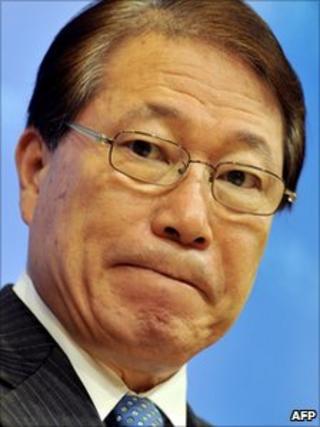 The South Korean Foreign Minister, Yu Myung-hwan, has offered to resign after it was revealed that his daughter was offered a job in his ministry.
Yu Hyun-sun, 35, was given a post as a mid-ranking civil servant, prompting allegations of nepotism.
Ms Yu was rejected when she originally applied, but was later given the job after another hiring process.
Mr Yu, while denying any wrongdoing, has apologised for allowing the impression to arise.
The government has ordered an investigation into the incident.
Trio of scandals
As our correspondent John Sudworth reports from Seoul, the scandal is another blow to a government already facing criticism over its ethical standards.
Last month, three of the government's new nominees for cabinet posts were forced to resign following allegations of unethical behaviour, our correspondent says.
Kim Tae-ho, the prime minister designate, was accused of having ties to a corrupt businessman.
The choice for culture minister was accused of breaking residency laws to get his children into better schools.
And the new knowledge-economy appointee's wife was accused of using insider information to profit from a property deal, our correspondent adds.
The scandals have been a blow to the President Lee Myung-bak who, in a recent speech, has promised to work towards creating a fairer society.