China postpones talks with Japan after boat collision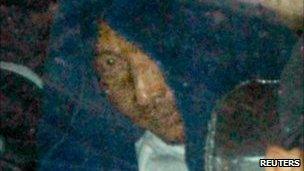 Beijing has postponed planned diplomatic talks with Tokyo after Japan's court extended the detention of a Chinese trawler captain for 10 days.
The captain was arrested earlier this week after his ship collided with two Japanese patrol boats near disputed islands in the East China Sea.
Japan accuses him of deliberately ramming the boats, but China demands his immediate release.
This development is the latest twist in a growing row between the two nations.
The area where the Chinese boat was seized is close to uninhabited islands, known as Senkaku in Japan and Diaoyu in China, which are controlled by Japan, but are also claimed by China and Taiwan.
China's unsettled maritime boundary has been a cause of friction with most of its neighbours.
Strategic and practical interests in the ocean have made matters worse.
In the East China Sea, China's exclusive economic zone (EEZ) overlaps with that of Japan's.
But the dispute touches Chinese sensitivities more than elsewhere. The group of eight uninhabited islands lie midway (about 200 nautical miles) between the eastern coast of mainland China and the southwest of Japan's Okinawa.
Japan says it claimed the islands in 1895. China says they were always part of its province of Taiwan and so were included when it ceded Taiwan to Japan in the Treaty of Shimonoseki in 1895, although they were not specifically mentioned in the treaty.
After Japan's defeat in World War II, Taiwan was returned to the Kuomintang government but not the islands.
In recent years, as China's economic and military power builds up, Japan has strengthened its presence in the disputed areas and seized or dispelled fishing boats from both China and Taiwan.
Activists from the Chinese community have made expeditionary trips to Diaoyu Island to assert claims of sovereignty despite their governments' unwillingness to turn the issue into an open confrontation with Tokyo. The activists are planning a new expedition to the island.
There are no signs yet that either side is ready to back down.
The Chinese foreign ministry has summoned the Japanese ambassador to Beijing three times this week to demand the unconditional release of the Chinese captain.
Japan's Coast Guard arrested Zhan Qixiong, aged 41, on suspicion of "obstructing public duties" early on Wednesday.
News of his arrest reportedly triggered the death of his grandmother in Fujian province, eastern China.
Two Taiwanese fishing boats were also detained by the Japanese this week. One was released later after paying a fine.
Correction 25 October 2010: An earlier version of this story stated that the islands were ceded to Japan by the Manchu emperor in 1895 in the Treaty of Shimonseki. We have amended our story to make it clear that the islands were not specifically mentioned in the treaty.