Garment workers begin strike in Cambodia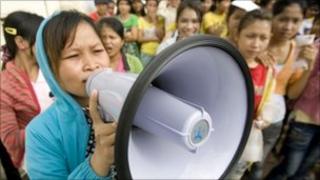 Thousands of workers at garment factories in Cambodia have started a week-long strike.
They are protesting over a $5 (£3.23) increase to the monthly minimum wage, which their unions call unacceptable.
Some of the world's best-known clothing labels buy garments from Cambodian factories, including Gap, Levi's and Marks and Spencer.
Union leaders had said 80,000 workers would join the strike. But early signs are that far fewer are taking part.
Most garment factories around Phnom Penh have been able to operate as normal.
That may come as a relief to the employers, who thought they had reached an agreement with the Cambodian Labour Confederation last week.
They had offered to renegotiate a benefits package, and in return the confederation would drop the strike and its demand for an increase in the minimum wage of more than 50%.
The majority of the country's garment unions had already accepted a $5 increase in the monthly wage, raising it to just over $60.
A significant strike might have damaged the recovery of Cambodia's garment sector.
It struggled during the global economic crisis but grew rapidly in the first half of this year.
The country's factories have been able to attract big-name buyers through a policy known as labour linkage.
It guarantees good working conditions and the International Labour Organisation co-ordinates factory inspections.