Charges sought over Manila siege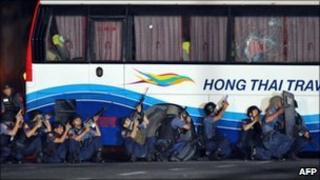 Investigators in the Philippines want to charge 10 people in connection with the deaths of eight Hong Kong tourists during a bus hijacking last month.
Justice Secretary Leila de Lima said she would press for criminal and administrative charges against at least 10 officials, police and journalists.
She said investigators also believed that those who died were shot by the hostage-taker, who then killed himself.
The result of an official inquiry into the incident is expected on Friday.
The bungled attempt to rescue the hostages, who were held for hours on a bus by an armed former policeman, outraged politicians in Hong Kong and mainland China and strained relations with the Philippines
'Lapses'
No details were given of the charges, or the identities of those to be charged.
Ms de Lima, who is heading the investigation, told reporters: "We have [had] discussions on specific accountabilities of specific officers and [other] personalities. We expect the president to act on the basis of our recommendation."
She said the recommendation to seek charges was "based on the evaluation of the actions, the non-action, the missteps, the lapses, the negligence, the incompetence" of those involved.
Last week, Ms de Lima said there was a strong possibility that at least some of the hostages may have been accidentally killed by "friendly fire", but she said on Thursday that "based on the survivors' accounts, they were really killed by the hostage-taker", the Associated Press news agency reported.
Disgraced ex-policeman Rolando Mendoza, 55, hijacked a bus on 23 August, armed with an assault rifle, in an attempt to get back the job he lost in 2009 for extortion and threat-making.