Thai red-shirts stage defiant protest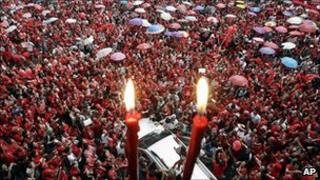 Thousands of anti-government "red-shirt" protesters have defied a state of emergency by staging a demonstration in the Thai capital, Bangkok.
The protesters were marking the fourth anniversary of the coup that ousted ex-prime minister Thaksin Shinawatra.
It was also exactly four months since the suppression of their long-running protests in the capital.
The BBC's Rachel Harvey in Bangkok says security was tight but there was no sign of violence.
Another gathering was also held in the northern city of Chiang Mai.
Protesters in Bangkok gathered at the crossroads which earlier this year they had turned into a fortified encampment.
Thousands of red balloons were released and many demonstrators carried banners calling for the release of comrades held in prisons across the country.
Some red-shirt leaders face charges of terrorism and others are accused of breaching emergency laws which remain in place in Bangkok and several other provinces.
More than 90 people died and about 2,000 were injured during two months of protests earlier this year, which blocked off the commercial heart of Bangkok.
Many within the red-shirt movement are loyal supporters of Mr Thaksin who is currently living in exile to avoid a jail sentence for corruption.
The coup which ousted him caused deep divisions within Thailand.
Our correspondent says Sunday's peaceful demonstration is a vivid reminder that those rifts remain.