Three policemen killed in Indonesia attack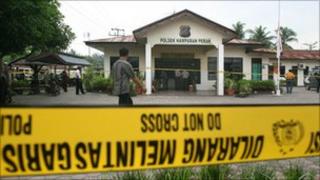 Gunmen have shot dead three policemen in Indonesia, in an attack officials linked to Islamist militants.
Police said more than a dozen assailants surrounded a police station in northern Sumatra during the night and opened fire.
They said the attackers were connected to a group targeted in raids on Sunday by anti-terror forces.
That group is accused of being behind bank robberies aimed at raising funds for attacks.
The police station that was attacked, at Hamparan Perak, was 2km (1.2 miles) from the site of the weekend raids.
Police spokesman Iskandar Hasan said he believed the gunmen "wanted to convey a message about their existence".
Three militants were killed and 15 injured in Sunday's raids.
The group are accused of committing a bank robbery in Medan last month in which one person died.
Police say the aim of the robbery was to obtain funds to buy weapons including grenades for attacks.
They said the group were linked to a militant training camp uncovered in Aceh in February.