Row over NZ possum-tossing contest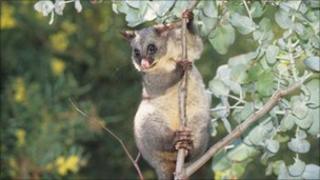 An animal welfare group says it plans to talk to a school in New Zealand which held a possum-tossing contest.
The possums - four-legged squirrel-like marsupials - were dead when they were hurled through the air by students.
But there have been complaints that the contest at Colyton School in Manawatu was unacceptable and encouraged students to mistreat animals.
Possums, which are not native to New Zealand, are seen as a pest in the country.
The event took place at a fund-raising gala on 12 September, after a possum hunt.
School Principal Colin Martin said the event helped children engage with the outdoors and learn about humane ways of killing possums.
The school was in a rural farming area where most of the kids had a good understanding of life and death, he said, and it was about "letting kids be kids".
But the Society for the Prevention of Cruelty to Animals (SPCA) said that it had received three complaints about the event.
"While it's technically not illegal, it's morally wrong to throw a dead animal around," local SPCA centre manager Danny Auger told the Manawatu Standard.
"I will be talking with the school and seeing if we can come to some sort of agreement."
Opinion divided
In a poll conducted by New Zealand website Stuff, 60% of respondents agreed that the contest was "harmless fun", compared to 40 who thought it was "cruel and disrespectful".
In an opinion piece, deputy editor of the Manawatu Standard Warwick Rasmussen pointed out that Colyton School was not the only school to have carried out such an event.
"There are a number of rural practices, traditional or otherwise, that people from towns and cities would find curious, bizarre and, in some cases, offensive," he commented.
"Conversely, there are things that townies do that fly in the face of the way people in country areas go about their lives."
According to the Department of Conservation, possums have a very damaging effect on New Zealand's ecosystem.
They have no natural predators, as they do in their native Australia, and as a result, they compete with native birds for habitat and destroy native forests, a departmental fact sheet said.