Burma soldiers 'refusing tasks in pay, rations protest'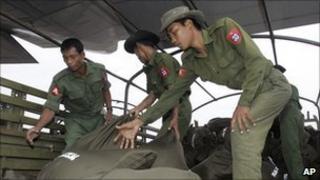 Reports from Burma say soldiers in many areas are refusing to carry out routine tasks in protest at short rations and lack of access to their pay.
In a series of BBC interviews, soldiers in garrison towns have said their rations have been cut for weeks.
They say commanders have barred access to money they have saved, which is kept in a central fund.
Their action comes just over a month before Burma's first general election for 20 years.
Ahead of the 7 November polls, the BBC Burmese service has interviewed individual soldiers in garrison towns across the country.
It has built up a picture of deep resentment in parts of the army just weeks before the election, BBC World Service Asia-Pacific editor Viv Marsh reports.
Soldiers say their food-rations have dropped and that while prices have been rising, their commanders have blocked access to their savings.
"The rations have been cut to one-third of the usual amount. Our salaries are not enough to support our families," said one private from the Light Infantry Division No 701, based about 40km (24m) from Rangoon.
"Wives are angry as they find difficult to pay school fees for children. So we asked the officers to give us enough rations and to return our savings."
"If we don't get back our savings, we might join with the people outside and protest."
The soldiers say they are refusing to take part in routine drills.
"Not only in our divisions, soldiers in LID 702 and 703 are also defying orders," said the private.
"They refuse to do sentry duty and 'fatigue tasks' (compound cleaning jobs).. .We also refused to do parades when ordered."
They also say they have learned that front-line forces in Burma's border areas are still on full rations.
Last week, the Burmese authorities denied there was any disquiet in the military.