Malaysia hands over terror suspect Kastari to Singapore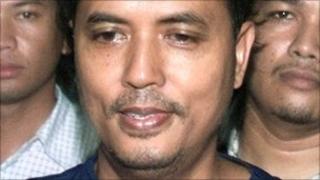 A man suspected of masterminding a plot to hijack a plane and crash it into Singapore airport is back in custody there after being returned by Malaysia.
Mas Selamat Kastari, the alleged head of the Singapore cell of the Jemaah Islamiah network, is being held under the city-state's internal security act.
He was captured in Malaysia after escaping jail in Singapore via a toilet window.
Jemaah Islamiah is blamed for attacks including the 2002 Bali bombings.
Mas Selamat, who is in his late 40s, has been in detention in Malaysia since 1 April 2009.
A Singaporean citizen of Indonesian origin, he is alleged to have plotted to crash a hijacked plane into Singapore's international airport.
Manhunt
Indonesian authorities arrested him on immigration violation charges in 2003.
He was handed over to Singapore in 2006 and detained in a high-security prison.
But he escaped in February 2008, managing to squeeze through a toilet window and climb over a fence while guards waited outside.
He evaded a massive manhunt and slipped into Malaysia by swimming across a narrow strip of sea that separates the two countries.
He was detained in a joint operation between Malaysia and Singapore in Malaysia's southern Johor state.