Wannabe rockstar keeping Okinawan language alive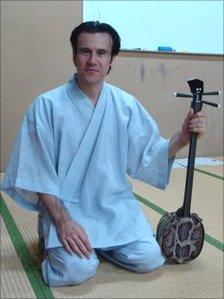 Byron Fija found his direction in life after an identity crisis.
His father was thought to be a US soldier, but he was never told anything about him. His mother, who was Okinawan, left him to his aunt and uncle to raise.
Growing up in Okinawa, his first language was Japanese. Then at the age of 22 he went to the US, where he wanted to make it as a rock star.
"I was denying my background and I hated Japan, so I tried being American."
But that did not work out either and so, dejected, he went back to Okinawa, where one evening, aged 24, he went to an old-style inn.
There he heard old Okinawan folk songs, in Okinawan language. "It was like a lightning bolt," he said. "From then I changed completely. It was like - I am Okinawan!"
"Until then I had always felt that being Okinawan was bad," he said. "For the last 10 years there has been an Okinawa boom - an 'Okinawa is great' kind of feeling - but back then it was different."
In the inn he heard the sanshin, a lute-like instrument. "I knew this kind of music existed but still actually hearing it stopped me cold."
Now Byron Fija, 40, plays the sanshin and speaks Okinawan language. He works to prevent it becoming extinct.
In the days of the Ryukyu kingdom, which ended in the 19th Century, Okinawans spoke multiple languages.
Unesco, in its 2009 Atlas of the World's Languages in Danger, has identified six specific languages across the archipelago.
But once the kingdom became part of Japan, the languages were marginalised. They were not taught in schools and children were not allowed to speak them there.
In the pre-war years, says Dr Richard Siddle, co-editor of Japan and Okinawa: Structure and Subjectivity, there was also a drive among some Okinawans to adopt Japanese.
"During that period Okinawans were looked at with suspicion, as not being fully Japanese," he said.
Using local languages was "seen as one of the markers of inferior status and of foreign-ness. So there was a strong movement by the Okinawan elite to speak Japanese."
Despite this, by 1945 there were still many people speaking local languages.
But another push to become more Japanese occurred during the 1950s and 1960s, as a reaction to post-war US control.
Parents stopped using Okinawan languages with their children, thinking that if they focused on learning Japanese, it would help them get jobs.
Since then, says Dr Siddle, the languages have faced the same challenges as many other endangered languages - globalisation and the spread of mass communications, plus the depopulation of rural communities where they used to thrive.
Now Okinawan languages are spoken only among the very elderly.
"People in their sixties can't speak them. It's sad. Some people over the age of 70 do, but for the rest, it is Japanese," Byron Fija says.
They are still not taught and almost no effort is being made to preserve them, he says.
After his inn revelation, he learned the language that used to be used in southern parts of Okinawa island from pensioners.
His main teacher was a famous stage actor, Makishi Kochu, a native speaker who is now in his 90s. He visited him every week to learn.
Now Byron Fija is well-know in Okinawa. For five years, he has had a radio show which he conducts entirely in local language. Residents - almost all elderly - call in to request songs and to chat.
He appears on TV shows and is also being paid by the Naha city government to teach local residents.
On Monday evening, a group of about 20 gather at a local hall. The youngest is a teenager, the oldest in her sixties.
They introduce themselves in Okinawan. Some make impressive-sounding speeches while other stumble over the words. The language sounds very different from Japanese, although occasional words are identifiable.
The students have also been practising folk songs for a show, accompanied by Byron Fija on his sanshin.
One class member is Yoko Ikehara. She says she is here because although she lives in Okinawa, she does not know any of the language and she thinks it is sad.
"We need to put more effort into the language and get more people involved," she says. Children should be taught using fairytales, she says, but that is not happening now.
Byron Fija is not particularly optimistic about the future. He wants to go to the UK to Wales, to learn how the linguistic revival there came about and to see if it could be replicated in Okinawa.
But he doubts anyone would fund such a visit. There is no push from the government which, he says, prefers to describe the languages as dialects of Japanese.
Nor is a re-emergence of Okinawan languages in Tokyo's interests.
"There are US bases here and so if people start looking at Okinawa's independent culture, it could affect Japan-US ties," Byron Fija says.
"If things continue this way, then Okinawan languages will die out. There is no compulsory language education - so in 10 years no one may speak Okinawan."
Related Internet Links
The BBC is not responsible for the content of external sites.