Aung San Suu Kyi launches legal battle over elections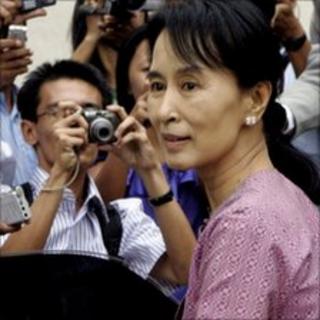 The detained Burmese opposition leader, Aung San Suu Kyi, has filed a legal challenge against the dissolution of her political party, the National League for Democracy.
Burma's military government formally abolished the NLD in May for failing to register for elections due next month.
The party is boycotting the poll, which it says will be a sham.
It won a landslide victory in Burma's last general election 20 years ago, but was never allowed to take power.
Ms Suu Kyi's lawyers Kyi Win and Nyan Win filed the legal action at the Supreme Court in Rangoon.
Nyan Win said the electoral commission did not have the authority to dissolve the NLD, which was registered under a previous party registration law.
Correspondents say the legal action is largely symbolic as legal challenges to the government have had little success in the past.
But Nyan Win, who is also an NLD spokesman, told reporters why they were persisting. "We are continuing because we have not given up," he said. "If we give up, we have nothing left to do."
Nobel peace prize winner Aung San Suu Kyi has been under house arrest for most of the past two decades.
Her current term of detention is due to expire on 13 November, six days after the elections.
Under the new constitution, the dominant role of the military is enshrined.
A quarter of the seats in parliament are reserved for the military, while many former officers have recently retired in order to join pro-government parties.