'Leader-in-waiting' views N Korea military with father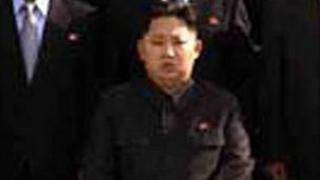 The grooming of Kim Jong-un as successor to his father, ailing North Korean leader Kim Jong-il, is continuing with official reports that the two have inspected a military unit.
They watched a live-fire drill, reported the Korean Central News Agency - though it did not say where or when.
Speculation that Kim Jong-il's youngest son was being elevated to the leadership was confirmed last week.
He was promoted to top political and military positions.
An official photograph subsequently depicted Kim Jong-un sitting in the front row of a group shot of military leaders.
On Tuesday, the KCNA reported that Kim Jong-un had inspected a military unit with his father - illustrating the importance of North Korea's song-un or "military first" policy.
Kim Jong-il expressed "great satisfaction at how all army units are strongly prepared to smash and pulverise any surprise attacks by enemies and protect the socialist homeland with an iron wall", KCNA said, according to the Associated Press news agency.
The father and son were accompanied by top ruling party official Chang Song-taek and his wife Kim Kyung-hee, Kim Jong-il's powerful younger sister, AP quoted the KCNA as saying.
She and her husband appear to be assuming the role of overseeing the transfer of power to Kim Jong-un, and may be acting as his guardians, North Korea watchers say.
Kim Jong-un has had a dizzying rise to prominence in the chronicles of North Korean power.
Previously he had never even been named by the North Korean media, and before a recent rare Workers' Party conference, at which he was promoted to senior positions within the party and miltary, only a few grainy childhood images of him were available.
The 65th anniversary of the founding of the Workers' Party is this Sunday, and South Korean Defence Minister Kim Tae-young has reportedly suggested this could also be used as a further occasion to signal Kim Jong-un's anointing as leader-in-waiting.