Asian floods kill dozens in Indonesia and Vietnam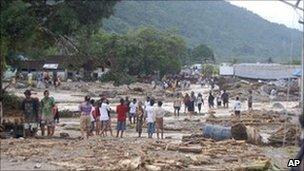 More than 80 people have died in flooding in the eastern Indonesian province of West Papua.
Flash floods and landslides in the Teluk Wondama district have left another 80 people wounded and sent thousands into evacuation centres.
At least 15 people have been killed in flooding that has swamped parts of central Vietnam.
Officials there said on Tuesday that 130 cm (51 inches) of rain had fallen in the region since Friday.
The sudden flooding in Indonesia's Teluk Wondama district caught residents by surprise, officials said, contributing to the high death toll.
Health officials told reporters at least 86 people had died, while a Red Cross official told the BBC that 94 people were known to have died.
Many more are missing after rushing waters sparked a deadly landslide and a river burst its banks; uprooted trees and debris ploughed through the area.
"We are still searching for dozens of missing people. The chance of survival for the missing people is slim," Papua search and rescue official Mochamad Arifin told AFP.
A navy warship has arrived near the disaster area carrying tents and food supplies.
Many parts of the country had been badly hit by heavy rains, winds and high waves this year, meteorologists said.
More than 34,000 people in the worst-hit provinces of Ha Tinh and Quang Binh have evacuated their homes after days of torrential rain.
The army has been using boats and helicopters to move people to safety and deliver food to the affected area.
Vietnam is frequently hit at this time of year by tropical storms and heavy flooding.
On Tuesday, officials said 130cm (51 inches) of rain had fallen in the region since Friday.
"This is the second time since 1985 that the water level went up too fast," said Phan Trietn in Quang Binh province.
"I just escaped from the water and all my belongings were swept away."
Landslides and floods have cut off several highways, including highways 1 and 9 and the Ho Chi Minh highway, officials said.
Thousands of hectares of rice fields have been flooded.
Water levels on rivers were dropping in Quang Binh province while rivers from Quang Tri to Thua Thien-Hue provinces were continuing to rise, said the national meteorology centre.
More rain was forecast for the central coast of Vietnam.