Explosion at Hanoi stadium kills four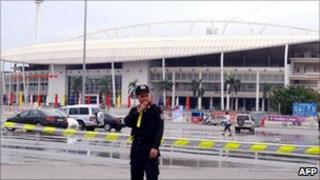 An explosion at the scene of a planned fireworks display in Vietnam's capital has killed at least four people and injured three others, officials say.
The blast occurred just before noon at the My Dinh stadium, where Hanoi's 1,000th anniversary celebrations were to culminate on Sunday, witnesses said.
The stadium was filled with people rehearsing for the ceremony. It has now been sealed off by military police.
Unconfirmed reports said foreign technicians could be among the dead.
It is not clear what caused the explosion, which shook nearby buildings, shattered car windows, and sent hundreds of people running.
"I saw a lot of smoke. It was total chaos," one woman, who lived about 1km (0.6 miles) away, told the Associated Press.
Photographs posted on the Tuoi Tre and VietnamNet news websites showed a large column of thick smoke in the air, but the reports were later removed, according to the AFP news agency.
The authorities have spent $63m preparing Hanoi for its 10 days of millennium celebrations. The fireworks display was to be the grand finale.