Tajikistan helicopter crash 'kills 25 soldiers'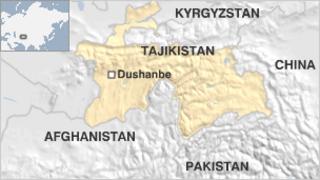 A military helicopter has crashed in Tajikistan, killing at least 25 soldiers, military sources have said.
An official statement confirmed four of the deaths and said the helicopter crashed after hitting a powerline.
The Russian-built MI-8 went down in the Rasht Valley, about 200km (125 miles) east of the capital, Dushanbe.
The military has been engaged in an operation against Islamist militants in the region after 28 soldiers were killed in an ambush in September.
The al-Qaeda-linked Islamist Movement of Uzbekistan said it had carried out the attack.
The Rasht Valley region has been a stronghold of Islamist militants since the 1990s, when guerrillas fought the government of Emomali Rakhmon.
Tajikistan is the poorest of the states to emerge from the collapse of the Soviet Union in 1991.
The country shares a poorly-protected 1,300km (800 miles) border with Afghanistan, much of it crossing the rugged Pamir Mountains.