US says North-South Korean talks are 'key to progress'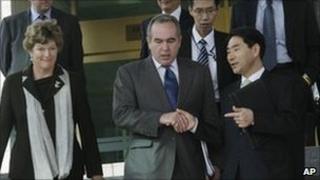 Progress towards ending North Korea's nuclear programme rests on re-engagement between North and South Korea, a top US diplomat has said.
US Assistant Secretary of State Kurt Campbell told reporters that some signs of cross-border dialogue could be found, but more were needed.
Multinational talks on how to end the North's nuclear plans have stalled.
The North has nuclear and missile programmes and conducted underground atomic tests in 2006 and 2009.
Efforts to restart the nuclear talks have been hindered by tensions over the alleged North Korean sinking of a South Korean warship, the Cheonan, on 26 March this year at a cost of 46 South Korean lives.
'Please re-engage'
Mr Campbell, who is in Seoul, said there were "some signs of dialogue, engagement between North and South Koreas and we encourage that process to continue".
Last week, the two Koreas agreed to organise a reunion of families divided by the Korean War - the first in a year.
South Korea has also said it is considering a proposal from the North to restart a stalled tourism joint venture.
"The critical component in terms of developments on the Korean peninsula, in the current environment, is to see re-engagement between North and South Koreas," Mr Campbell told reporters.
"We're sending a very clear message that we have total trust and confidence in a partner in South Korea.
"I think we're also looking for clear and demonstrable commitments on the part of North Koreans to fulfil commitments they made on denuclearisation in 2005," he said.
The North Korean leader, Kim Jong-il, is thought to be grooming his youngest son, Kim Jong-un, to succeed him.
The younger Kim was promoted to senior military and ruling party posts last week.
Seoul's deputy national security adviser Kim Tae-hyo said the gradual succession was heightening dangers on the peninsula.
"Kim is young and lacks experience, so there is a chance that he might develop an appetite for yet another risk or be tempted to engage in provocation to prove himself to the outside world," he said.
On Monday, Kim Jong-un reportedly attended military exercises with his father.