North Korea banned over 'underaged gymnast' claim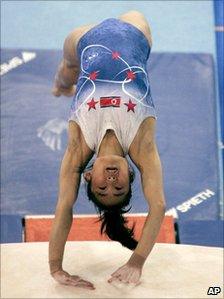 The International Gymnastics Federation has suspended North Korea over claims that an athlete falsified her age.
The federation said the North Korean team and the gymnast, Hong Su-jong, were provisionally banned from international competitions for 30 days.
It said Ms Hong had entered different dates of birth for different tournaments over recent years.
The ruling means North Korea is barred from competing at a forthcoming world gymnastics championship in Rotterdam.
North Korea has five days to appeal.
The federation said Ms Hong's date of birth was given as three different years at the Athens Olympics, the 2006 Asian Games and the 2007 Gymnastics World Championships.
At different times she was said to have been born in 1985, 1986 and 1989.
The most recent date of birth would mean that when she competed at the 2004 Athens Olympics she was underage, as since 1997 the minimum age has been 16.
Age falsification has been a problem since the 1980s, when the first age limit was introduced in order to protect young gymnasts' still-developing bodies from injuries.
But commentators say it remains a perennial problem despite a licensing system recently introduced by the federation.
The only reason North Korea was caught in this instance was its own sloppiness in providing different dates of birth for Ms Hong, they say.
Related Internet Links
The BBC is not responsible for the content of external sites.