Ice hockey's unlikely following in sultry Malaysia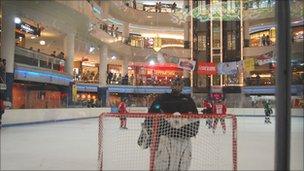 Ice hockey is one of the world's toughest sports. But making it to the top is especially hard in a country where it never snows.
Malaysia is sweltering all year round, with frequent thunder showers.
That is why many Malaysians escape to air-conditioned shopping centres, like the Sunway Pyramid in Petaling Jaya city.
The complex, which is shaped like an Egyptian pyramid, is home to Malaysia's only ice-skating rink.
This is where ice hockey has a small but growing following.
Last month the 2010 Malaysian International Ice Hockey Tournament was staged here, watched by dozens of people crowded up against the railings over four floors.
Most were probably not aware that there were fewer players on the ice than in international competitions.
Tournament organisers say competing with only four players on each side has extra pace and adds to the excitement.
But there are more practical reasons - this rink is too small to accommodate a full team.
"That is the biggest disadvantage the team has," said Haniff Mahmood, one of the first to play ice hockey in Malaysia.
"It takes us at least two games to adjust to the size of the ice," said the 49-year-old, who still plays for the national team.
Most of the spectators have never seen the sport before, and are drawn mainly by curiosity.
Mohamed Roshaidi Hamad, 32, plays football and badminton, the most popular sports in the country.
As he watched the ice hockey players slam into the railings, jostling for the puck, Mr Roshaidi told me the sport was too aggressive for him to play.
But it is exciting to watch, he said.
It is tough to keep a steady fan base. There is no seating around the rink; spectators usually leave after 20 minutes or so.
"I am surprised Malaysians know how to play this game at all," said Tommy Li, a student from China, which has one of the strongest hockey programmes in Asia.
"It doesn't snow in countries like Malaysia so it is impressive that they have an ice rink here."
There are more than 200 ice hockey players in the country.
The Malaysian Ice Hockey Federation wants to get more people into the sport - but it is challenging with only one ice rink in the country.
The national team can only practise early in the morning or late at night when the rink is closed to the public.
Despite these challenges, the sport has come a long way since 1974 when ice skating was first introduced.
Hockey equipment was hard to come by then. Mr Haniff remembers cutting up plastic drain pipes to use as shin pads.
"Most of us had to be creative in making our own equipment," he said.
The team is now fully equipped after joining the International Ice Hockey Federation in 2006. They also have a training programme for children.
Malaysia has won medals in international competitions but still trails other largely non-winter countries such as Taiwan, United Arab Emirates and Thailand.
Mr Haniff blames their performance on the size of the ice rink.
"Everybody else that has been winning the medals has got international size rinks and we do not."
As vice president of the Malaysian Ice Hockey Federation, Mr Haniff is lobbying the government to build a full-size rink.
Ice hockey is vulnerable in Malaysia so long as there is only one rink, he said.
"This rink is owned [by a private company] and if they decide to close down tomorrow, many years of hard work will just disappear," he said.
The national team hopes to convince the government that ice hockey is more than just a fringe sport by finishing within the top three in the forthcoming Asian Winter Games in Kazakhstan.
A handful of players are so committed they have packed their bags to train in Canada, a hockey-loving nation.
Some will wash dishes to survive there for a few months and jump at every opportunity to play hockey, said Allan Yeoh, acting captain of the national team.
"They will do whatever it takes."
The 29-year-old cannot afford to go abroad. Instead he has quit his job in corporate finance to fit in more practice time in the months leading up to the Games.
"I wish everyone could have more time," he said. "But you can't ask them to sacrifice their job, their bread and butter."
Mr Yeoh said the team are often called "Cool Runnings," the title of a Hollywood film loosely based on the Jamaican bobsled team's debut at the 1988 Winter Olympics in Calgary.
He sees it as a positive comparison.
"Anyone can achieve anything," he says.
Related Internet Links
The BBC is not responsible for the content of external sites.