Japan stimulus to inject $60bn into flagging economy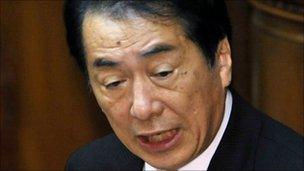 The Japanese cabinet has approved a plan to pump more than $60bn (£38bn) into the country's struggling economy.
The aim of the plan - which still needs approval from parliament - is to boost growth, jobs and spending.
The Japanese economy is suffering from deflation and a strong currency; prices keep falling, but consumers hold off spending in hope of lower prices.
Analysts said the key problem is that the yen is at a 15-year high, making exports more expensive.
Earlier this week, the Bank of Japan set interest rates at just above zero.
Japan's Nikkei newspaper said the plan could boost GDP growth by up to 0.6% and help to save jobs.
An extra budget is needed from parliament to fund the stimulus plan. This is expected to be submitted to parliament for debate later this month.
A previous stimulus package, announced last month, was intended to create about 200,000 jobs and shift GDP into positive territory, but was criticised as not going far enough.
At the heart of Japan's woes is the strong yen, which has gained almost 50% in value against the dollar since mid-2007.
Japan has been stuck for the last 20 years in what economists call a "liquidity trap" - falling prices, interest rates stuck at zero, but savings rates remaining stubbornly high.
Much of the recent yen strength is actually to do with dollar weakness - the US has also cut rates virtually to zero and faces the risk of sinking into a liquidity trap just like Japan.
Despite the additional spending measures in the supplementary budget, Mr Kan has made clear that Japan must cut its budget deficit in the medium term.
Japanese government debt has risen to about twice the size of its economy during the last two decades of poor growth.
Related Internet Links
The BBC is not responsible for the content of external sites.