China dismayed by prize for 'criminal'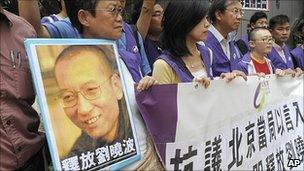 China has already reacted angrily to the news that the jailed Chinese dissident Liu Xiaobo has been given this year's Nobel Peace Prize.
Officials view the 54-year-old as a criminal and cannot understand why he should be honoured in this way.
"The fact that Nobel committee awarded the peace prize to such a person lowers the prize itself," read a statement from the Chinese foreign ministry.
Many in China will see this award as a slap in the face for everything the country has been trying to achieve over the past three decades.
This view was expressed in an editorial in the Chinese edition of the Global Times newspaper.
It was published earlier this year when news broke that Liu Xiaobo was a candidate for this year's prize.
"For decades, the West has supported Chinese dissidents. The message they are sending is that it disrespects China and completely denies its own approach to development," read the article.
It went on to say that China's recent achievements are huge and there are many other, more suitable, Chinese people worthy of winning the award.
China began a series of reforms just over 30 years ago that have opened up the economy and transformed the country. It is now richer than ever before.
The government has also withdrawn from many parts of society, leaving people to make their own decisions and so giving them more freedoms.
But politics still remains the sole domain of the Chinese Communist Party. It tolerates very little dissent, although it has not ruled out future political change.
China's people largely accept this situation.
"We should firstly reform the economy and then the political system. We should go one step at a time," said Beijing resident Ruan Bing shortly after the peace prize announcement.
Mr Ruan added that China should not follow the example of the Soviet Union, which reformed too quickly and ended up in chaos.
That view is shared by many Chinese officials.
They value stability, believing it is the source of the country's strength. Allowing people like Liu Xiaobo to get their way would threaten those gains, they fear.
But not everyone in China agrees. There is a small group of activists who want political change along with economic reforms.
They are now celebrating Liu Xiaobo's award.
Xia Yeliang, a friend of the peace prize winner, said: "It gives great encouragement to all the people pursuing freedom, constitutional democracy and the rule of law."
Related Internet Links
The BBC is not responsible for the content of external sites.