Kyrgyzstan set to hold landmark parliamentary election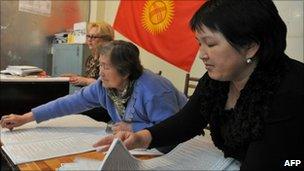 Kyrgyzstan is to hold a landmark parliamentary election on Sunday - the first since inter-ethnic violence between Kyrgyz and Uzbeks in June, when more than 400 people were killed.
There are significant differences between this parliamentary vote and all other elections that have ever taken place in Central Asia.
For one, the outcome is not easy to predict. There is no single party that could easily win a majority of the seats.
The competition is intense: over 3000 candidates from 29 political parties are vying for just 120 seats in the parliament.
This is the first election under the new constitution adopted in a June referendum that changed the form of government from a presidential system to a parliamentary democracy.
It means that a party or a coalition of parties that wins the most seats in parliament will select a prime minister, who will run the country.
But after the ousting of Kyrgyzstan's former president and inter-ethnic violence between Kyrgyz and Uzbek communities in the south in the last six months, there are fears that the outcome of the election could bring a new wave of violence.
Peace, stability, the rule of law and economic prosperity - these are what most of the parties have been promising their voters over the past month, in a vibrant and highly visible election race.
Posters, billboards, rallies, concerts and TV debates - there has been a wide choice of pre-election propaganda.
The festive atmosphere has been enhanced by the sight of campaign cars crisscrossing the country, decorated with flags and loudspeakers booming out patriotic songs. What has also been noticeable is how many young people have been involved in the campaign.
"If our party comes to power, we will return the country to the people" says Ulugbek, a supporter of the Ata-Meken (Fatherland) political party.
So who does he think the country belongs right now.
"To nobody," was his reply.
At the headquarters of the Ar-Namys (Dignity) party, Sanjar Kadyrakunov brandishes a party newspaper with the much publicised photograph of party leader Felix Kulov shaking hands with Russian President Dimitry Medvedev.
"It's magnificent that Medvedev met Kulov. It shows what kind of relationship exists between our countries. Russia still has great influence in our country, economically and politically."
The Kremlin has been playing an active role in the election race, showing support to some parties by meeting their leaders and issuing a statement of concern over nationalistic rhetoric in the programme of others.
For many in Kyrgyzstan, Russia's support symbolises stability.
Just a few days before the Sunday vote, Russia opened its new cultural fund in Kyrgyzstan with an elaborate ceremony.
At the launch party propaganda videos about the strong bond between the countries were played on a giant screen - a reassuring message for ethnic Russians living in Kyrgyzstan.
"Kyrgyzstan has lived on its own for 20 years and has achieved very little. We will be much better off with Russia," said Amir who has been attending the concert.
In the city of Osh, 700 km south of the capital Bishkek, ethnic Uzbeks have little time and desire for pre-election festivities.
Mixing cement and laying down brick people are in a rush to rebuild their houses - destroyed in June during inter-ethnic fighting between Kyrgyz and Uzbeks.
Many people here still live in fear and have little trust in the vote.
They are too afraid to give their names or to be filmed.
"There is not a single representative of Uzbeks in the parliament. Who will represent our interests?" says one woman.
"We feel like second class citizens," says another, adding that, with winter approaching, the priority here is to finish rebuilding houses.
People in the south also have faced problems surrounding identity documents that were lost or destroyed during the June violence. The government promised to issue temporary IDs ahead of the poll.
"I've been running for over two months trying to restore my documents, birth certificates for my children and my marriage certificate. But at the registry office I was attacked, the woman who issues documents scratched my face. Why are they treating us like this?"
Many ethnic Uzbeks complain of growing nationalism. They say that they are being subjected to public abuse from ethnic Kyrgyz and mistreatment by the police.
There are men who do not go out into the streets in mixed areas - or if they do they are often accompanied by small children for fear of intimidation or detention by the police.
But the government says it is working to provide security for all its citizens and to ensure a peaceful vote on Sunday.
"Apart from our internal municipal security services, there will be tax police, customs and financial police - they will all be in their uniforms. In addition there will be observers, 10-15 volunteers in each polling station," said deputy-mayor of Osh, Talay Sabirov.
The real concern in Kyrgyzstan is that there could not only be a new wave of violence between ethnic Kyrgyz and Uzbeks, but also trouble between northern and southern regions.
On the eve of the vote there were reports of suspicious leaflets being distributed in the south of the country, calling on people not to tolerate parties that are led by the so-called "northerners" - Kyrgyz citizens from northern regions of the country.
The Sunday parliamentary election is a decisive moment for Kyrgyzstan. With peace and stability at stake, a free and fair poll is considered vital.
A fraudulent election could provide the excuse for renewed violence.