Japan and China in maritime dispute agreement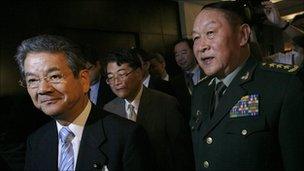 China and Japan have agreed to work together to prevent conflicts at sea, following a diplomatic row over the detention of a Chinese sea captain.
He was arrested last month by the Japanese, who said he had rammed two patrol boats in disputed waters.
The deal was made in Vietnam on the sidelines of the first-ever meeting of regional defence ministers.
Attendee US Defence Secretary Robert Gates urged a multilateral approach to solving regional territorial disputes.
The agreement came after informal talks at the regional defence ministers meeting in Hanoi, which brings together South East Asia nations, as well as China, the US and Japan.
It appears to have been achieved largely through talking in abstract about future liaison rather than discussing the disputed islands at the centre of the dispute, says BBC south-east Asia correspondent Rachel Harvey.
Nonetheless, the host of the defence ministers meeting, Vietnam, will no doubt be relieved that one row has already been resolved - not least because Hanoi has its own conflict with China over a different set of islands, our correspondent adds.
The two issues reflect increasing concern in the region about Beijing's growing assertiveness over maritime rights, particularly in the South China Sea.
That in turn has prompted the US to restate its strategic interests in the region and its willingness to protect those interests and its allies, our correspondent says.
China's Defence Minister Liang Guanglie invited his US counterpart to visit China early next year - an offer that was accepted.
"We don't take sides in this," Mr Gates told reporters in Hanoi. "We don't have any territorial claims of our own."
China broke off direct military contacts with the US eight months ago in protest at US arms sales to Taiwan. Tentative moves to restart military contacts began last week.
Recent joint military exercises by South Korea and the US have also angered China.
China claims sovereignty over the entire South China Sea, including the Paracel and Spratly islands, which are also claimed in whole or in part by Vietnam, Taiwan, Malaysia, Brunei and the Philippines.
Vietnam's own concerns focus on China's frequent detention of Vietnamese fishermen. It has accused China of detaining nine of its fishermen last month in the South China Sea near the Paracel Islands.
Related Internet Links
The BBC is not responsible for the content of external sites.