Asian military ties warm at Hanoi defence meeting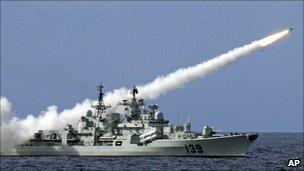 US Defence Secretary Robert Gates has accepted an invitation to visit China and Australian officials said military ties with Vietnam have improved.
The progress in regional defence links is taking place as part of a major Asian security meeting under way in the Vietnamese capital, Hanoi.
Tensions have risen this year around China's claims to seas in the north and south of the region.
Transnational crime and natural disasters are also on the agenda.
"This meeting is a new and important step forward in Asean's defence cooperation," said Vietnamese Prime Minister Nguyen Tan Dung, whose country holds the current chairmanship of the grouping.
"China's defence development is not aimed to challenge or threaten anyone, but to ensure its security and promote international and regional peace and stability," China's Defence Minister General Liang Guanglie said.
"China pursues a defence policy that is defensive in nature," he said, endorsing the aims of the new defence ministers' forum.
The BBC's South East Asia correspondent Rachel Harvey says China in particularly has been increasingly willing to flex its muscles in ways that many other delegates find distinctly unnerving.
But even before the formal meeting got underway in Hanoi, bilateral discussions appeared to have eased some tensions.
Both the US and Japan sought to improve fractious ties with China on Monday, the first day of talks.
Military ties between China and the US had been broken off by Beijing eight months ago in protest at US arms sales to Taiwan, and since then, the US had aligned itself with Asean efforts to find a multilateral solution to competing maritime claims.
Mr Gates said that a military dialogue between the two powers was too important to be derailed by political issues.
"The dialogue between the two militaries ought to be sustainable regardless of the ups and downs in the relationship," Mr Gates told reporters travelling with him.
"Having greater clarity and understanding of each other is essential to preventing mistrust, miscalculations and mistakes," he said.
He hinted the fraught topic of China's claim to the South China Sea could be discussed today: "I think that it's clearly on everybody's mind and falls within the rubric of maritime security," he said.
Some Asean ministers have said sensitive topics should be avoided at this first ever meeting of the region's defence ministers, although analysts say this approach is too limited.
"Its utility will be called into question if it doesn't address some of the hard security issues in Asia-Pacific, like the Korean peninsula, like the South China Sea," said Ian Storey, a regional security analyst at the Institute of Southeast Asian Studies in Singapore.
Related Internet Links
The BBC is not responsible for the content of external sites.