US concern for wife of Nobel winner Liu Xiaobo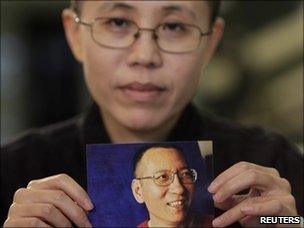 The United States has called on China to end the apparent house arrest of the wife of Nobel Peace Prize winner and jailed dissident Liu Xiaobo.
Speaking to the BBC by telephone, Liu Xia said she was unable to leave her home.
"Liu Xia's rights should be respected, and she should be allowed to move freely without harassment," a spokesman for the US embassy in Beijing said.
The award honouring Mr Liu has drawn a furious reaction from China.
Beijing has called it an "obscenity" that went against the principles of the Nobel prize.
Liu Xiaobo was a key figure in the pro-democracy protests in Tiananmen Square.
Relatives of victims of the 1989 military crackdown are now calling on the Chinese government to release him.
In an open letter, a group known as the Tiananmen Mothers praised Mr Liu for his non-violent struggle in the pursuit of democracy in China.
One of the signatories, Zhang Xianling, told AFP news agency: "He has fought with and supported the Tiananmen Mothers for over 20 years, he has always stood with us and today we are standing by him."
The wife and lawyers of Mr Liu are also considering a possible bid for a retrial over his 11-year sentence for "inciting subversion", one his lawyers was quoted as saying.
Mrs Liu said she hoped her husband would "be released as innocent".
Mr Liu, 54, dedicated his award to the "lost souls" of Tiananmen, during a meeting in jail with his wife on Saturday.
In an interview with the BBC, Mrs Liu said the meeting had been very emotional.
He told her he wanted to pay tribute to the Tiananmen victims "because they lost their lives putting democracy into practice".
She said he had asked her to accept the award on his behalf in Norway.
However, she said: "I can't even leave my own home now."
She said diplomats from the Norwegian embassy in Beijing were prevented from visiting her on Monday.
There are also reports that more political activists in Beijing have had their movements restricted, including Zhou Duo, who was with Mr Liu during the Tiananmen Square protests.
Related Internet Links
The BBC is not responsible for the content of external sites.