Crocodile Dundee outback pub up for sale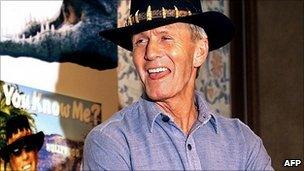 The Australian outback pub made famous by the 1980s film Crocodile Dundee is up for sale.
The Walkabout Creek Hotel, in the small town of McKinlay in the state of Queensland, was made a popular tourist attraction by the film.
But owner Paul Collins says he is looking for a change after 23 years.
In the movie, the Walkabout Creek Hotel is the favourite watering hole for knife-wielding hero Mick "Crocodile" Dundee played by Paul Hogan.
The hotel - built in 1900 - was originally known as the Federal Hotel but later changed its name to that used in the film.
"I've been running it for 23 years, it's time for a change and a break," Mr Collins told AFP news agency.
"It's a different pub, it's in a remote location. It's not everyone's cup of tea," he added.
"But there has been some pretty strong interest to date. It's a good pub."
The pub is packed with memorabilia and photographs from the hit film.
It is a popular stopping-off point for tourists who travel between Brisbane and Darwin.
Related Internet Links
The BBC is not responsible for the content of external sites.