China-Brazil 'friendly' ends in mass 'basket-brawl'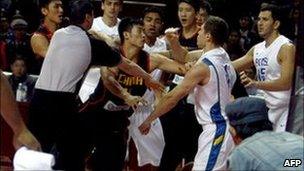 The Chinese Basketball Association has apologised for a fight which broke out during a friendly match against a visiting team from Brazil.
The game on Tuesday degenerated into a brawl as players from both sides exchanged kicks and punches - forcing an end to play.
The Chinese association said training for the Asian Games had been put on hold while it investigated.
It said players found to be at fault would be dealt with severely.
"The CBA apologises to the Brazilian side and all other parties over the incident which created such serious consequences," association vice chairman Li Jinsheng said in a statement.
There is no word yet from the Brazilian federation.
But observers are sensing a new meaning of the word "friendly" - a term usually meant to indicate a game played by national teams for the fun of it, rather than competitive gain.
Trouble began when a referee called a foul by Chinese players and the decision prompted protests by the Chinese players and team coach.
Play became rough until finally, open fighting broke out on the court.
Players from both benches joined in the melee of players throwing kicks and punches at each other.
Play was stopped and the teams separated - but China's players then attacked the Brazilians on their way to the locker room.
The Brazilians refused to consider any return to play.
Both teams - including several wounded and at least one Chinese player in a neck-brace - returned to Beijing from the central city of Xuchang on Wednesday.
China's players will be made to attend classes on good sportsmanship; some players will be penalised.
The team has been in fights before, but officials are hoping for change.
China's basketball association said its players are taking time to "deeply reflect".
Related Internet Links
The BBC is not responsible for the content of external sites.