Australian father jailed for murdering his three sons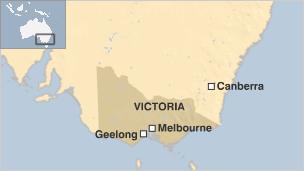 An Australian father has been jailed for life for murdering his three sons in what prosecutors called "an unspeakable act of vengeance".
Robert Farquharson, 41, was convicted of driving his car carrying his sons into a reservoir near Melbourne and leaving them to drown as he swam free.
The prosecution said he acted out of resentment and anger against his ex-wife Cindy Gambino.
Jai, 10, Tyler, seven, and Bailey, two, were killed on Father's Day 2005.
Farquharson had been driving his sons to visit his ex-wife in Geelong, near Melbourne.
He had pleaded not guilty to murder, saying he had blacked out during a coughing fit at the wheel of his car.
He was first convicted and given a life sentence without parole in 2007, but a re-trial was ordered on appeal, leading to his conviction in July this year.
The Supreme Court judge in the Australian state of Victoria, Lex Lasry, told Farquharson that he must serve at least 33 years of his life sentence, but could be eligible for parole after that.
Ms Gambino has told reporters the chance of parole means the sentence is not enough.
"It's a life sentence for me. It should be a life sentence for him," she said.
Justice Lasry argued in favour of parole, saying Farquharson was "not a threat to the community as best as I can tell".
He told Farquharson that "prior to these terrible incidents, you could be properly described as a man of good character".
Friends and relatives of the father say he is a broken man who deeply loved his children and would carry the grief with him forever.
Justice Lasry said: "Even if it's momentary - if it's a momentary crime - it's a momentary crime of the most breathtaking proportions."