China to address economic imbalance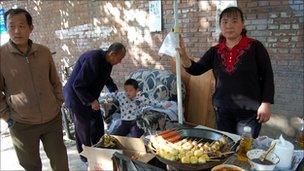 In the shadow of Beijing's Central Business District there is a small area of low-rise slum housing, where people jostle for space.
There are shops selling clothes and shoes, roadside food stalls and cheap accommodation.
The nearby business district - home to luxury hotels and the offices of multi-national companies - seems a million miles away.
These two areas, separated by only a few hundred metres, show the triumphs and failures of China's current five-year economic plan.
Bustling business districts are proof of China's economic growth; poor areas show that not everyone has benefited from that success.
China's top Communist Party leaders have begun an annual meeting at which they will discuss the next five-year plan. They will be looking to maintain the rapid pace of growth.
But the leaders also recognise that they will have to give more money to their poorest citizens.
There is no doubt that China has done well over the last five years.
Officials expected annual growth of 7.5% in this current five-year plan, which runs from 2006 to the end of this year.
They easily beat that goal. Growth averaged 11.4% in the first four years of the plan, according to figures supplied by the bank UBS.
They also did better than expected in other areas; more people now benefit from pensions and basic healthcare insurance.
The economic slump caused by the global financial crisis barely seems to have affected China's economic growth.
People now have more money to spend, and some of them go to the new Shangri-La-run hotel at the top of the China World Tower, Beijing's tallest building.
From a bar on the 80th floor, guests have a spectacular view over the whole city as they nibble expensive snacks and sip drinks.
Some economists believe Chinese officials might have become too confident at the success achieved over the last five years.
"I think the leadership may be looking at the recent performance and over-estimating how good they really have done," said Arthur Kroeber, managing director of the research firm Dragonomics.
"They might also be under-estimating the need for structural reforms that will generate growth in the future."
Many believe China has to increase domestic consumption, rather than relying on investment in infrastructure projects and exports to fuel growth.
The people who live in the slum near the Central Business District will perhaps be hoping that they get a bigger share of the economic pie.
Liu Qingye, originally from Henan Province, is one of those who lives and works in the narrow lanes that make up the area.
She used to work in a nearby hotel, but left last year because she could not survive on her monthly salary of 1,000 yuan ($150, £94).
The 41-year-old now sells hot snacks - including unborn chicks skewered on a stick and fried - from a mobile stall she places next to a rubbish dump.
She earns nearly double her previous wage, but can still only afford to rent a single room, which she shares with her husband.
The couple's two children are back in Henan, being brought up by their grandparents.
Mrs Liu will never be able to afford one of the luxury apartments just down the road.
"We simply don't have enough money to rent a place down there. I just stay here and do my own little business," she said.
China knows that it will have to improve the life of Liu Qingye over the next five years if it is to rebalance its economy - and make its poorest people happier.