Q&A: China party conference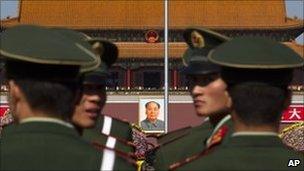 Chinese Communist leaders are meeting in Beijing to discuss the country's next five-year plan. The party's plenary session may also shed light on who is likely to be the country's next leader.
The BBC's Shirong Chen looks at the key issues which are likely to be discussed during the talks in the Chinese capital.
What is a plenary session?
The Communist Party of China (CPC) holds a national congress once every five years in recent decades. The 17th Congress was held in 2007.
In between the congresses, the 204-member Central Committee holds a plenary session at least once a year. The current conference runs 15-18 October 2010.
What is the main agenda of the meeting?
The main item is to discuss and approve China's new five-year plan, which covers 2011-2015.
The ruling CPC is expected to endorse a new economic model of "inclusive growth", a model that stresses not just on GDP growth at any cost, but on balanced development across the different sections of the society and different geographic regions.
A widening wealth gap is fuelling social tensions and threatening the power of the CPC.
So the conference will be discussing improved income redistribution and social reform. At the same time, international pressure is mounting for China to stimulate its domestic consumption rather than relying on exports.
The meeting is also expected to confirm Xi Jinping as the vice-chairman of the party's Central Military Commission, paving the way for him to succeed Hu Jintao as the next leader of China in 2012.
After more than three decades of breakneck growth, China has become one of the world's three largest economies.
It has arrived at a cross road. Any strategic shift in its economic policy will have an impact on the economic well-being of the world. For example, if China's domestic consumption is up, the developed countries that are hit badly by the global crisis can export more to get out of recession.
Better-off Chinese consumers will also push for more political reform including the decision-making process and accountability.
Who is attending the conference?
All the 204 members of the Central Committee are supposed to attend, including all members of the elite Politburo and about a dozen of so-called democratic alliance members.
Apart from CPC Secretary General Hu Jintao, observers are keen to see if Xi Jinping will be confirmed as the vice chairman of the Central Military Commission.
If yes as precedents dictate, it is almost certain that the 57-year-old Mr Xi will be seeing through the new five-year plan when he takes over the baton in 2012 from Hu Jintao.
If not, there will be some anxiety as to the power balance in China's top leadership, which may further limit China's capability to take responsibility in world affairs.